DT-820 PLUS: Portable 2.4 GHz Non Linear Junction Detector (NLJD)
DT-820 Plus 24 is a miniaturized non-linear junction detector (NLJD). It can detect electronic devices hidden in walls, floors, ceilings, lamps, furniture or containers, whether they are transmitting signals or non operational. Upon detection, the DT-820 Plus 24 provides an alarm via visual display, sound, and vibration, to locate the target equipment and protect an organization's  or individual's private information.
The transmitting antenna of the non-linear junction detector sends the fundamental wave of the S-band to the target area or object, while the receiver captures the second and third harmonics generated from
the target object. Artificial intelligence algorithms are then utilized to analyze the harmonic laws to detect and identify whether there are suspicious electronic devices or metal corrosion nodes in the detection area.
High positioning accuracy: The product adopts 2400MHz radio frequency detection technology, and has high precision positioning characteristics.
Stronger semiconductor recognition ability: Built-in spectrum analyzer supporting second and third harmonic detection can quickly and effectively identify devices and devices containing semiconductors.
High sensitivity: Built-in high-gain antenna, large detection distance, especially for SIM card devices with high sensitivity, to ensure mobile communications equipment can be quickly detected.
Lower false alarm rate: The built-in nondestructive detection algorithm greatly improves detection ability, with a very low false alarm rate.
High safety and reliability: The characteristics of the equipment meet the requirements of electromagnetic radiation and are safe for use by individuals.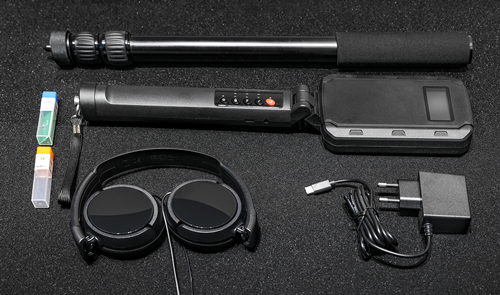 Flexible and simple operation: The interface is simple and intuitive, with minimal control buttons for concise, and easy manual operation.
Auto shut down: The NLJD automatically powers down when no movement is detected for 5 minutes, or 5 seconds after the antenna is folded, to maximize power saving.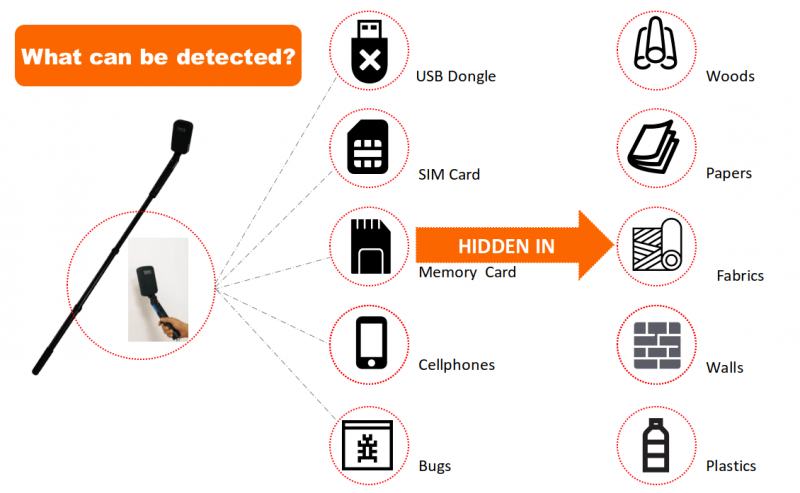 Use in government, public security, prison, commercial security and personal privacy protection, etc.
Detection of unauthorized electronic devices hidden in corporate conference rooms or business offices, including audio recorders, transmitters, cameras, mobile phones, and devices containing sim cards.
Detection of unauthorized electronic devices in a personal residence or hotel including covert pinhole cameras and audio recorders to protect personal privacy.
Detection of detonation devices and remote control units in target locations.
Technical Specifications: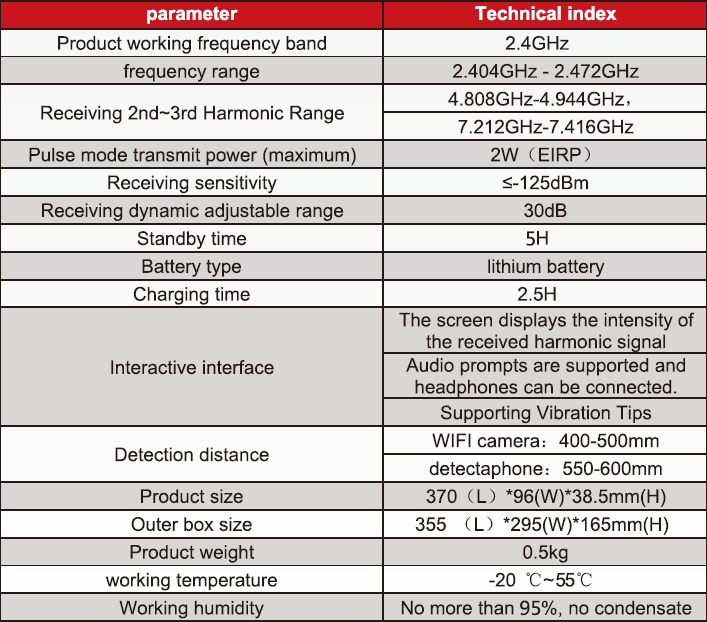 DT-820 PLUS 2.4 NLJD
Extendable Pole
Stereo Headphones
2nd & 3rd Harmonic Test Targets
Hard Shell Carry Case
Power Adapter
Connection Cable
Operator Manual