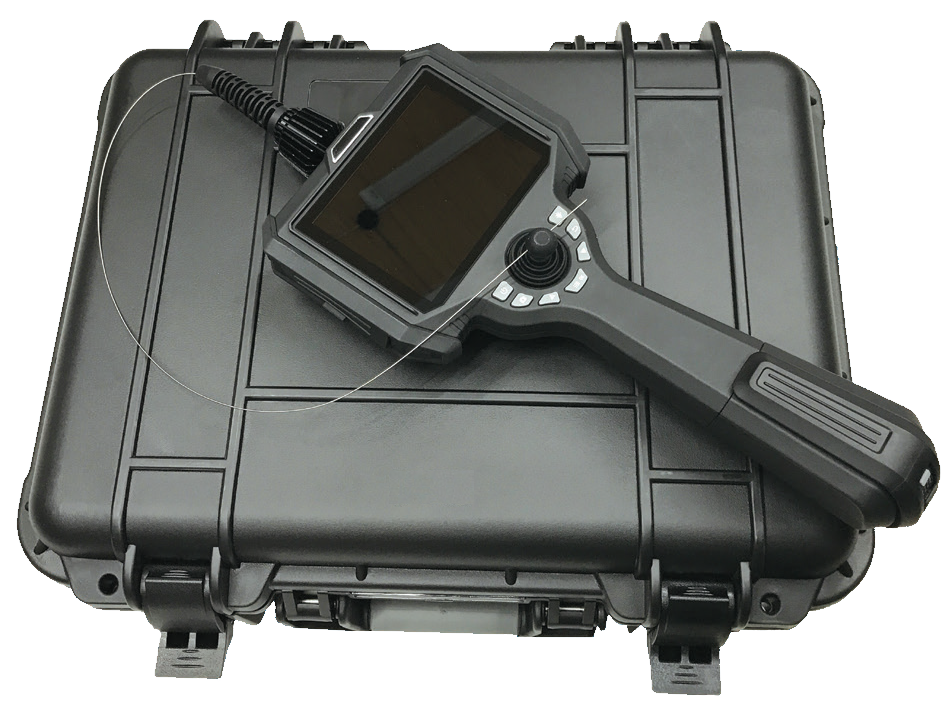 The VS1 is the first sub 1.0mm 'all in one' video scope with built-in glass fiber illumination, providing unprecedented full-screen clarity for an instrument of such small diameter. A 500mm length stainless steel braid covered flexible probe contains a 1/11″ CMOS camera sensor. A colour 160,000 pixel video image is displayed on the 5″ LCD screen. Recording is simple with a short press of the image button for JPEG images, and a long press of the same button to start and stop MP4 video recording. Illumination is controlled with one button, which cycles through the stepped output levels, providing the ideal amount of light for your application.
The probe is interchangeable, meaning in the event of breakage, only the probe needs to be replaced, not the entire unit. In addition, other sized probes may be used with the same unit. *Please note that the 0.95mm diameter probe has no articulation control. It is not possible to contain control wires inside such a small diameter.
The supplied rechargeable battery clips to the handle of the unit and provides approximately 4 hours working time. On the side of the unit is a TF card slot, micro USB port, and HDMI socket. The whole kit is supplied in a heavy duty carry case containing battery, charger, cables and a micro SD/TF card.
* A crystal clear full screen video image.
*Tiny 0.95mm diameter stainless steel braided flexible probe.
*Built-in glass fiber illumination with adjustable output level and no unwanted LED reflection on screen.
*Easy image and video capture in compatible formats.
*4 hours operation time.