Wi-Fi Inspector (with GEO option)

Specialized TSCM Wi-Fi Detection and Network Analysis Hardware and Software System with GPS Support and Digital Mapping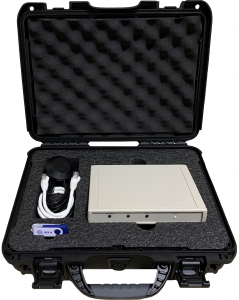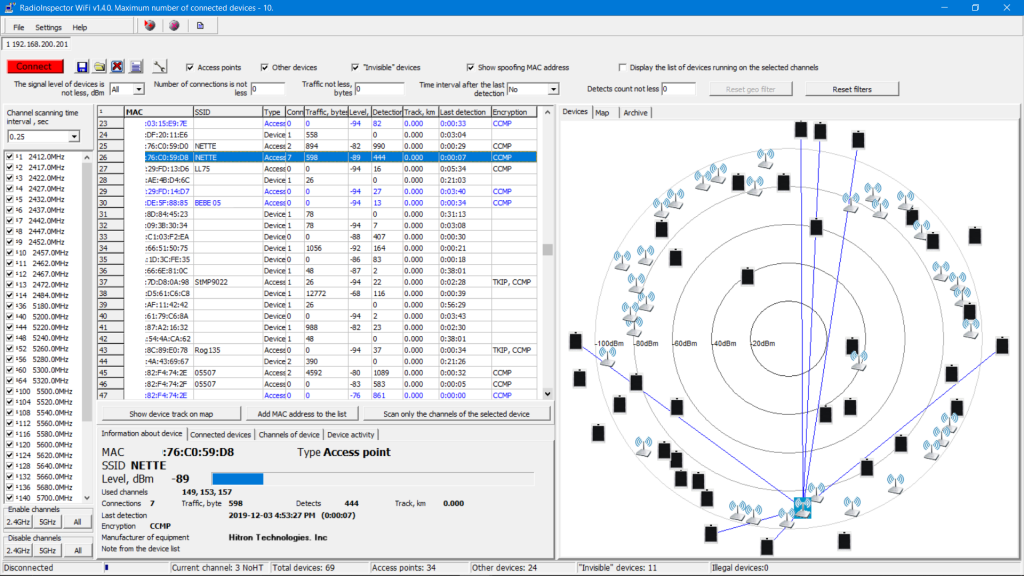 With ongoing developments in Wi-Fi technology and it's increasing use in sophisticated technical surveillance and data acquisition, detailed Wi-Fi detection and analysis has become a critical component of professional Cyber/TSCM RF spectrum monitoring. With the multitude of Wi-Fi devices and access points active at any one time the ability to quickly isolate, positively identify and analyze each individual transmission is vital to detecting potential hostile activity.
The Wi-Fi Inspector system is designed for TSCM specific applications and incorporates compact individual Wi-Fi capture and analysis receiver modules with RadioInspector Wi-Fi analysis software. Wi-Fi Inspector can be used as part of a complete spectrum analysis system or for stand-alone Wi-Fi analysis applications, requiring no integration with any additional hardware.
Each receiver module is a compact, light weight, "free-running" device with its own internal processor and memory, performing sequential scanning of Wi-Fi channels (frequency bands). Receiver modules have a simple, unobtrusive, low profile design and can run independently collecting data autonomously for a month or more at a time, providing a high level of operational security. They can be used for live on-site analysis, accessed remotely, or multiple receiver modules can be connected in series or in parallel and used as a distributed system over wide areas for continuous automated 24X7 Wi-Fi monitoring. GPS support with digital mapping provides optional mobile monitoring with mobile route recording and analysis.
With the increasing number of individuals working from home, the Wi-Fi Inspector system offers a highly cost effective solution to monitor the Wi-Fi environment autonomously 24 X 7, to protect a home office or home based business against electronic audio / video surveillance or data compromise.
Electronic surveillance devices regularly utilize digital communication standards including Wi-Fi. These devices are commonly designed to collect data passively, and transmit on demand as infrequently as possible for short periods of time. This greatly decreases the probability of detection and the effectiveness of conventional, limited time on-site, and portable walk around RF detection solutions.
Digital electronic surveillance devices are also used for live streaming of audio and video during daytime business hours, activities and events. In these situations, both detection equipment and methods are required to be as covert as possible, to avoid disrupting normal business activities while keeping TSCM services as confidential as possible to protect against alerting potential insider threats.
* The Wi-Fi Inspector system can work in combination with RadioInspector TSCM software systems, extending its class-leading automated digital signal classification, analysis and recognition capability.
The Wi-Fi Inspector system performs the following functions:
Detection of operating access points in Wi-Fi networks.
Detection of additional devices (other than access points: PCs, laptops, smartphones etc.) operating in Wi-Fi networks.
Detection of links (data transmission) between devices in Wi-Fi networks and data traffic calculation.
Displaying information for detected devices in Wi-Fi networks and devices connected to them in text format.
Displaying detected devices and connection links between them in graphic format.
Various filters can be applied for displaying devices with required parameters.
"Authorized" (legal) device list and "Unauthorized (illegal) Blacklist.
Data archive: displaying device activity, displaying device operation for a selected time interval, post analysis of saved data files.
Receiver modules are GPS/GLONASS ready via dedicated USB port for optional digital mapping, mobile route recording and monitoring using built in Open Street Maps.
Use of single or multiple independent "free-running" receiver modules throughout a facility or over a wide area for 24X7 Wi-Fi monitoring and autonomous data collection.
The software can run without connection to a receiver module when analyzing saved archived data.
Most Wi-Fi network analysis software is designed to analyze Wi-Fi networks for the purpose of optimization, Wi-Fi network security and 802.11channel utilization. This is market-driven. RadioInspector Wi-Fi software is unique in that it is focussed on TSCM specific tasks including detection of all Wi-Fi devices such as access points and clients along with clients that are beaconing and not connected to a network, which are often ignored. The ultimate goal of Wi-Fi Inspector is to show all active Wi-Fi devices, to display activity time charts and the volume of transmitted and received traffic. More importantly, Wi-Fi Inspector identifies new Wi-Fi devices (potentially clandestine such as  Wi-Fi enabled covert audio and video devices) that are not 'listed' in the authorized (legal) devices database. Detected unauthorized (illegal) devices are immediately highlighted in the device list, on the graphical display and digital map.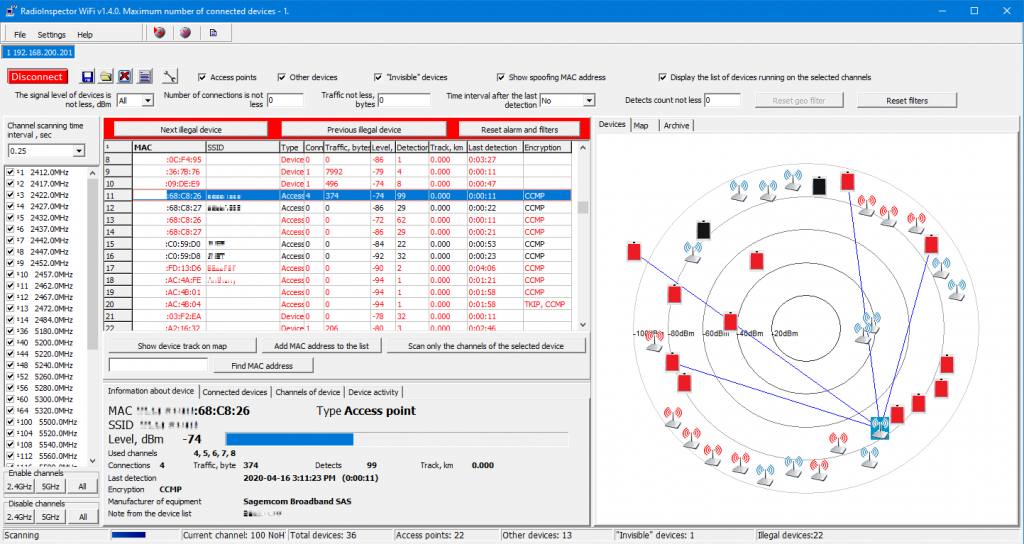 Usually, Wi-Fi network analysis software retains all data transmitted by Wi-Fi devices, enabling subsequent content analysis. Most Wi-Fi network analysis tools operate for a limited time due to the large volume of accumulated data. Wi-Fi Inspector is designed to operate continuously performing detection and analysis of WiFi signals in a controlled location or on a mobile route because it stores only the essential relevant packets required for the Detect-Analyze-Respond cycle for Cyber TSCM analysis. Analysis results are displayed in both text and graphical formats and collected data is archived can be saved to separate files for post analysis or review. 
Common Wi-Fi network analysis software uses the laptop's internal Wi-Fi adapter or an external USB Wi-Fi controller. The problem with this method is the critical dependency between software and the Wi-Fi adapter types, and most particularly, Windows drivers. Due to the Windows environment, there is no universal Wi-Fi adapter which can correctly transfer all necessary data about Wi-Fi packets. In most cases, developers create their own custom drivers for common Wi-Fi controllers. The disadvantage is that either the controllers disappear from the market or a new Windows operating system version is released requiring a custom-developed Wi-Fi driver update. In addition, some programs are required to use only certain types and versions of Wi-Fi adapters, limiting their life cycle due to manufacturing changes. Wi-Fi Inspector uses its own low profile external Wi-Fi analysis receiver module that is GPS ready, operates autonomously 24X7 and does not depend on a computer type or Windows operating system version. The compact, light weight Wi-Fi analysis receiver module can be located in a controlled location or used for mobile applications. The receiver module connects to a computer to perform real-time analysis of working Wi-Fi networks and devices, or for analysis of saved data.
Typical Wi-Fi network analysis software puts a laptop Wi-Fi adapter in the active mode and transmits special broadcast 'probe' packets intending to obtain additional information about Wi-Fi devices in the vicinity. Wi-Fi devices will respond to these probes and provide information such as a response indicating that the Wi-Fi device is "Nick's smartphone" including some properties about the phone. The iPhone operates this way. Programs that use active search methods can be easily detected by the presence of broadcast probe packets transmitted over all Wi-Fi channels. WiFi Inspector, however, operates only in a passive mode so it is much harder to detect, further enhancing operational security.
Data analysis and GEO option:
RadioInspector Wi-Fi software displays all detected Wi-Fi devices and access points (including ad hock mode) and accumulates data including mac address, SSID, equipment manufacturer, equipment type, channels used, encryption, data traffic evaluation and connections between devices with report generation. Various filters can be applied for specific scanning requirements including by time / signal level / traffic / connections / channels / displaying invisible devices (not transmitting data packets) and spoofed mac addresses. Display graphs and associated information allow the TSCM operator to perform a risk analysis of Wi-Fi devices. A list of authorized (legal) Wi-Fi devices and an unauthorized (illegal) blacklist can be programmed for each controlled location with alarm indication on events to instantly identify new, unauthorized, or potential clandestine devices in operation. RadioInspector Wi-Fi software can analyze the performance of Wi-Fi devices even when it is not connected to a network.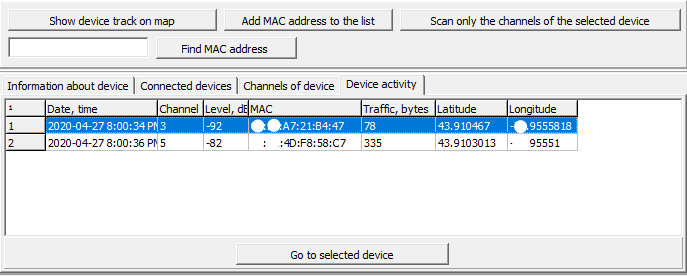 GEO Option:
The Geo program option provides digital mapping using built-in Open Street Maps, and mobile routes can be recorded and monitored when the included GPS receiver is connected to the dedicated USB port on the receiver module. Once a map area is accessed and displayed, it is automatically cached for offline use. An RSSI mode displays only the detection with the highest signal level for each device and can be utilized for direction finding.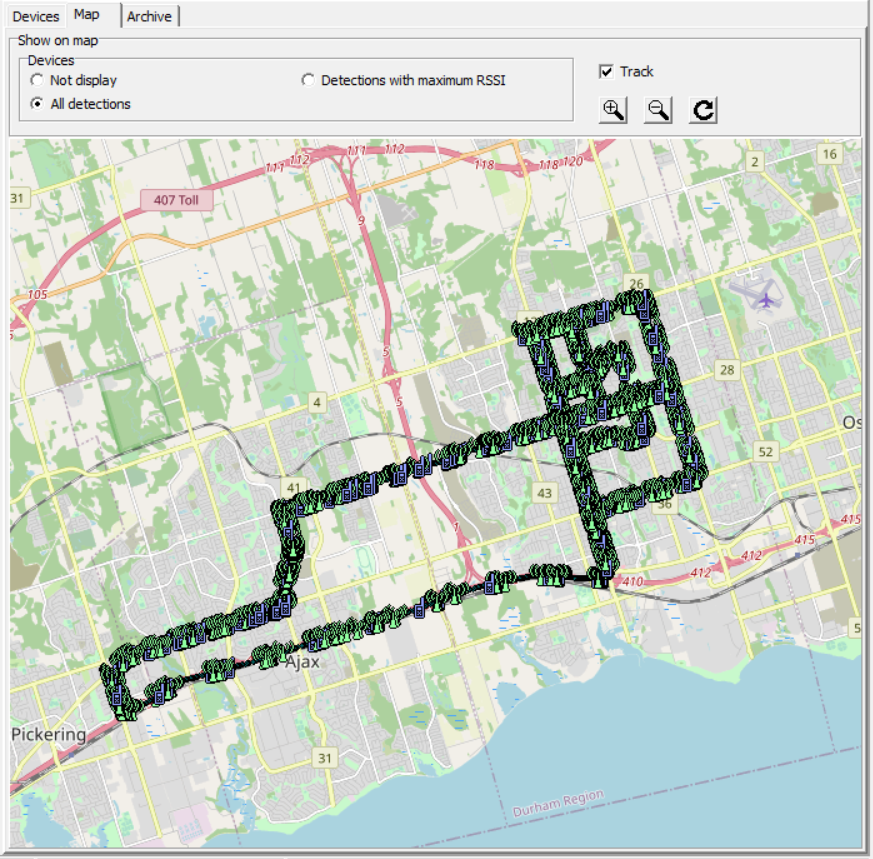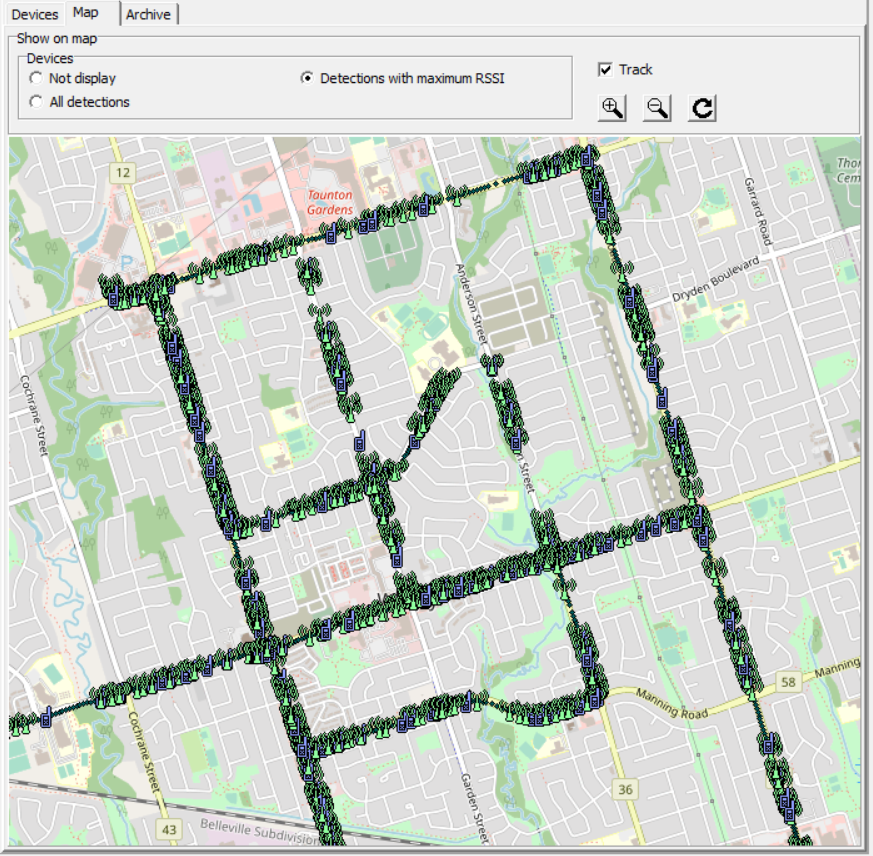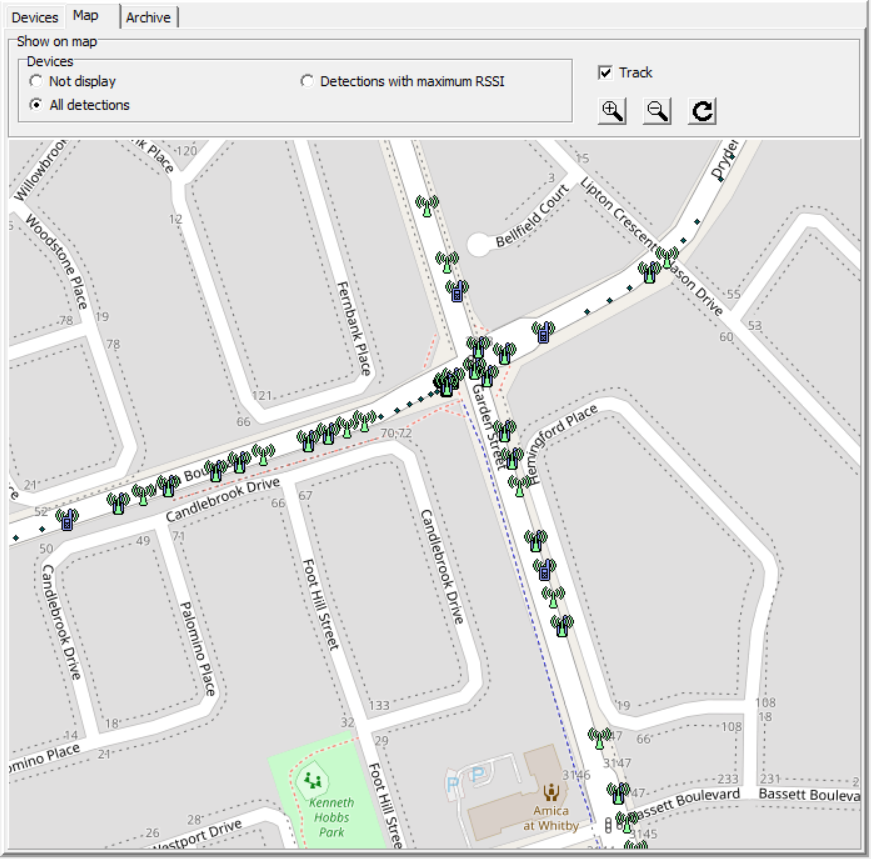 Scalability and remote control:
RadioInspector Wi-Fi software and Wi-Fi Inspector analysis modules are design for deployment as a distributed system that is able to cover any area which requires continuous 24X7 Wi-Fi device monitoring and analysis, even if those devices are not connected the local area network. The Wi-Fi Inspector analysis module can be connected to the existing local area network by assigning it an available IP address. The operator can control the Wi-Fi Inspector analysis module from any TCP/IP connected remote location.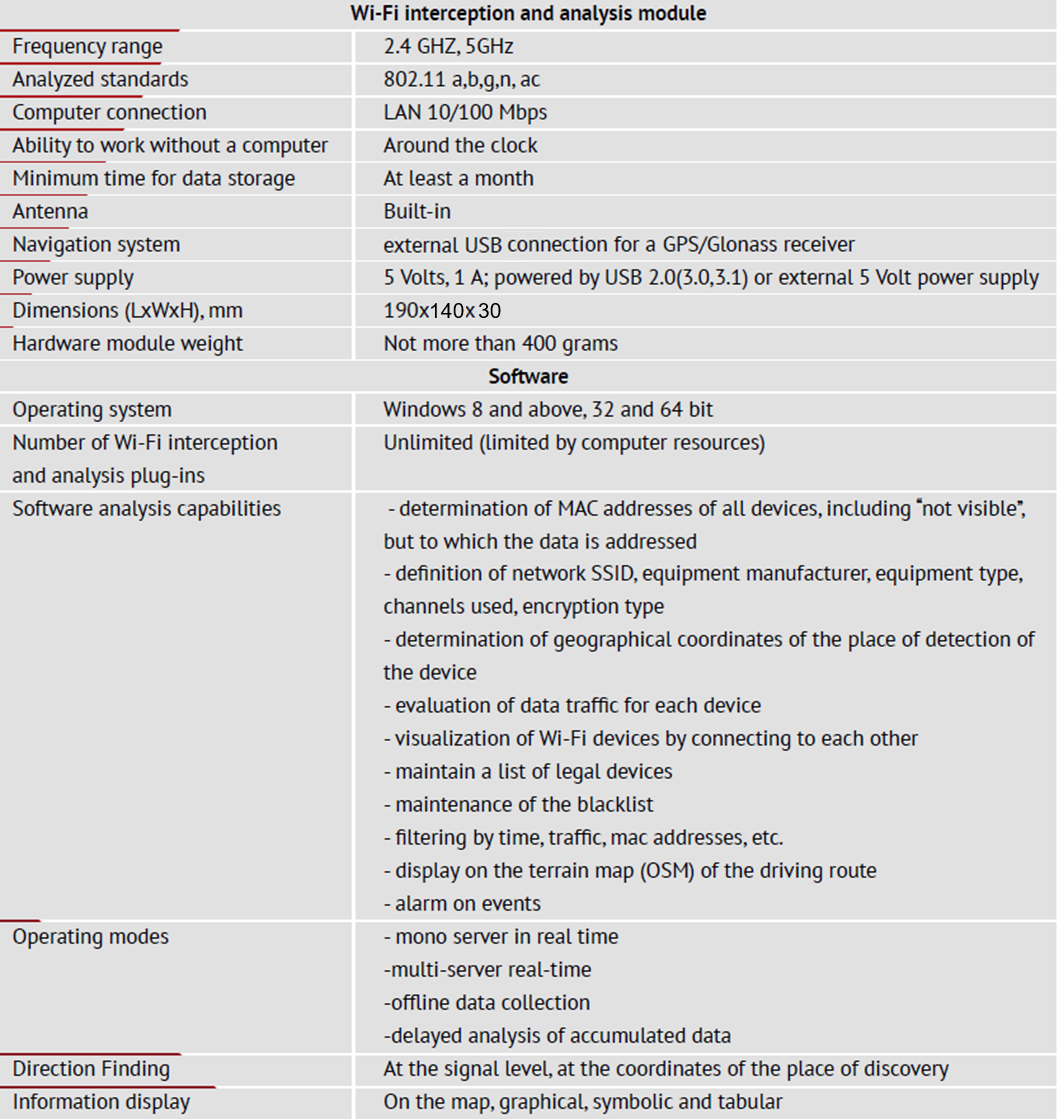 Wi-Fi Receiver Module – GPS ready (multiple receiver modules if ordered)
RadioInspector Wi-Fi analysis software
Optional external GPS receiver module (requires GEO program option)
Professional Custom Nanuk Hard Shell Case with NK-7 Impact Resistant Resin / IPX7 Waterproof / ASTM D-4169 / ATA 300 / MIL-STD-810F.  *

Case can hold two Wi-Fi receiver modules.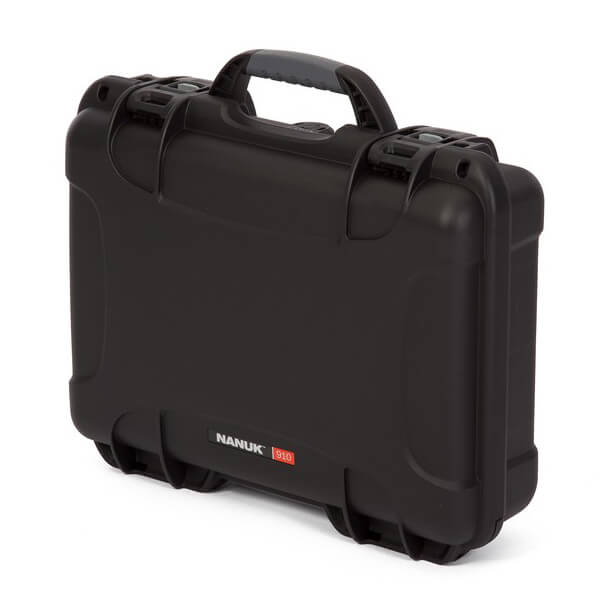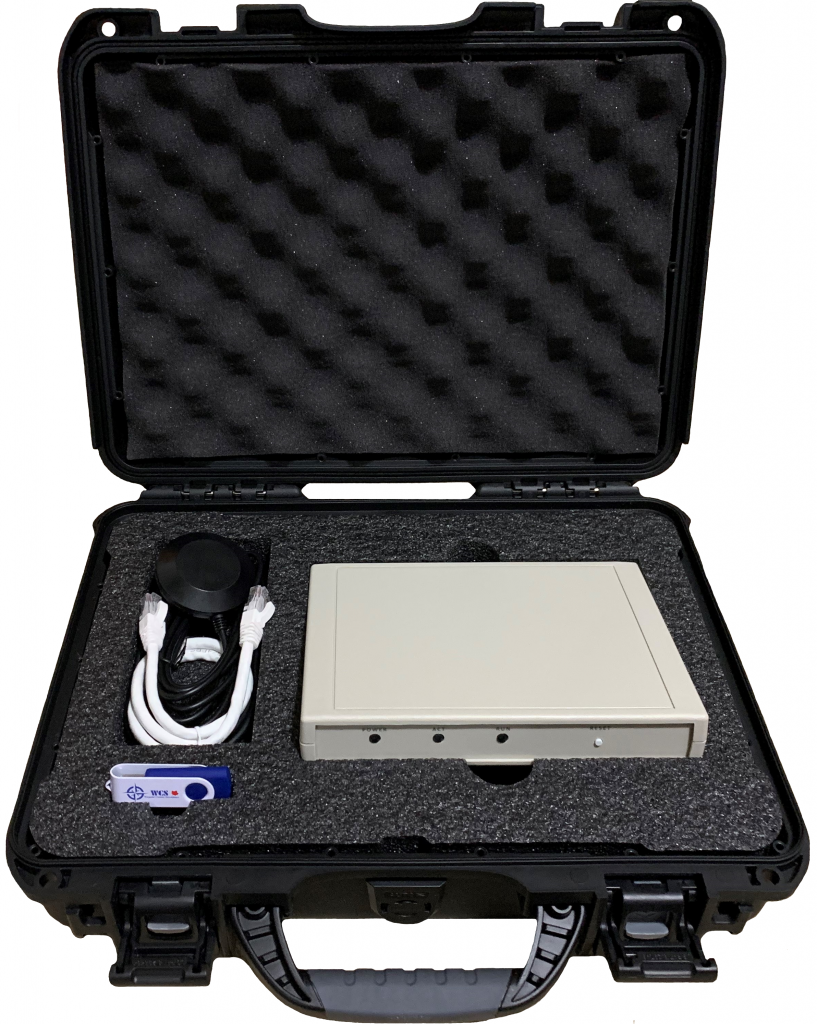 * The Wi-Fi Inspector System is available through Waypoint Counter Surveillance Inc. and approved distribution associates.
* Receiver modules are manufactured in Canada.
Pricing
Contact us for pricing information
1-year warranty