Specialized TSCM Wi-Fi Detection and Network Analysis Hardware and Software System with GPS Support and Digital Mapping
With ongoing developments in Wi-Fi technology and it's increasing use in sophisticated technical surveillance and data acquisition, detailed Wi-Fi detection and analysis has become a critical component to any professional Cyber/TSCM RF spectrum monitoring and analysis system. With the multitude of Wi-Fi devices and access points active at any one time the ability to isolate, positively identify and analyze each individual transmission is vital to detecting potential hostile activity.
The Wi-Fi Inspector system incorporates compact individual Wi-Fi receiver modules with RadioInspector Wi-Fi analysis software. Wi-Fi Inspector can be used as part of a complete spectrum analysis system or for stand-alone Wi-Fi analysis applications requiring no integration with any additional hardware. Each receiver module represents a "free-running" device with its own processor and memory, performing sequential scanning of Wi-Fi channels (frequency bands). Receiver modules can run autonomously collecting data for months at a time, can be used for live on-site analysis, accessed remotely or multiple receiver modules can be connected in series or in parallel and used as a distributed system over wide areas for continuous automated 24/7 Wi-Fi monitoring. GPS support with digital mapping provides optional mobile monitoring with mobile route recording and analysis.
The Wi-Fi Inspector system was designed for TSCM specific applications and is the perfect addition to the RadioInspector RF TSCM/SIGINT software application, extending its class-leading automated digital signal classification, analysis and recognition capability.
The Wi-Fi Inspector system performs the following functions:
Most Wi-Fi network analysis software is designed to analyze Wi-Fi networks for the purpose of optimization, Wi-Fi network security, and 802.11channel utilization. This is market-driven. RadioInspector Wi-Fi software is unique in that it is focussed on TSCM-specific tasks including detection of all Wi-Fi devices such as access points and clients along with clients that are beaconing and not connected to a network, which are often ignored. The ultimate goal of Wi-Fi Inspector is to show all active Wi-Fi devices, to display activity time charts and the volume of transmitted and received traffic. More importantly, Wi-Fi Inspector identifies new Wi-Fi devices (potentially clandestine such as the store and forward Wi-Fi enabled covert listening devices) that are not 'listed' in the authorized devices database.
Detection of operating access points in Wi-Fi networks.
Detection of additional devices (other than access points: PCs, laptops, smartphones etc.) operating in Wi-Fi networks.
Detection of links (data transmission) between devices in Wi-Fi networks and data traffic calculation.
Displaying information for detected devices in Wi-Fi networks and devices connected to them in text format.
Displaying detected devices and connection links between them in graphic format.
Various filters can be applied for displaying devices with required parameters.
"Authorized" devices list.
Operation on archive: displaying device activity; displaying device operation for a selected time interval.
Receiver modules are GPS ready via dedicated USB port for optional digital mapping and mobile route recording and monitoring using built in Open Street Maps.
Use of single or multiple independent "free-running" receiver modules over a wide area.
The software can run without connection to a receiver module when analyzing archived data.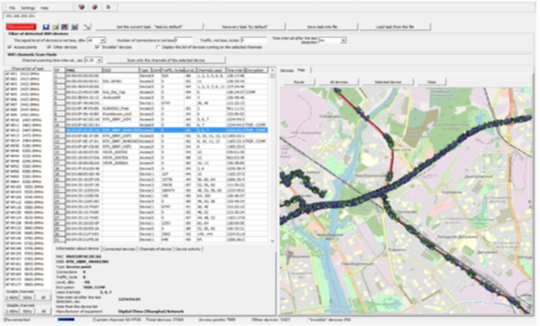 Usually, Wi-Fi network analysis software retains all data transmitted by Wi-Fi devices, enabling subsequent content analysis. RadioInspector Wi-Fi software analyzes and retains the Wi-Fi packet headers only because header information is what fulfils the analysis portion of the Cyber TSCM threat detection cycle of 'Detect-Analyze-Respond'.
Most Wi-Fi network analysis tools operate for a limited time due to the large volume of accumulated data. Wi-Fi Inspector is designed to operate continuously performing detection and analysis of WiFi signals in a controlled location or on a mobile route because it stores only the essential relevant packets required for the Detect-Analyze-Respond cycle for Cyber TSCM analysis.
Common Wi-Fi network analysis software uses the laptop's internal Wi-Fi adapter or an external USB Wi-Fi controller. The problem with this method is the critical dependency between software and the Wi-Fi adapter types, and most particularly, Windows drivers. Due to the Windows environment, there is no universal Wi-Fi adapter which can correctly transfer all necessary data about Wi-Fi packets. In most cases, developers create their own custom drivers for common Wi-Fi controllers. The disadvantage is that either the controllers disappear from the market or a new Windows operating system version is released requiring a custom-developed Wi-Fi driver update. In addition, some programs are required to use only certain types and versions of Wi-Fi adapters, limiting their life cycle due to manufacturing changes.
Wi-Fi Inspector uses its own compact, external Wi-Fi analysis receiver module that is GPS ready, operates autonomously 24/7 and does not depend on a computer type or Windows Operating System version. The Wi-Fi analysis receiver module can be located in a controlled location or can be carried around for mobile applications. The receiver module connects to a computer for analysis of saved data, or to perform real-time analysis of working Wi-Fi networks and devices.
Typical Wi-Fi network analysis software puts a laptop Wi-Fi adapter in the active mode and transmits special broadcast 'probe' packets intending to obtain additional information about Wi-Fi devices in the vicinity. Wi-Fi devices will respond to these probes and provide information such as a response indicating that the Wi-Fi device is "Nick's smartphone" including some properties about the phone. The iPhone operates this way. Programs that use active search methods can be easily detected by the presence of broadcast probe packets transmitted over all Wi-Fi channels. WiFi Inspector, however, operates only in a passive mode, so it is much harder to detect. It detects the name of the Wi-Fi device manufacturer taken from the broadcast MAC address.
RadioInspector Wi-Fi software displays all detected Wi-Fi devices and accumulates statistics about them such as which Wi-Fi device is associated with other devices, signal level, data traffic and channel etc. It displays special graphs and associated information to allow the TSCM operator to perform a risk analysis of Wi-Fi devices (The list of authorized Wi-Fi devices for each controlled location is incorporated). RadioInspector Wi-Fi software can analyze the performance of Wi-Fi devices even when it is not connected to a network. The Geo option provides digital mapping using built-in Open Street Maps and mobile routes can be recorded and monitored when a GPS receiver is connected to the dedicated USB port on the receiver module.
Scalability and remote control:
RadioInspector Wi-Fi software and Wi-Fi Inspector analysis modules are deployable as a distributed system that is able to cover any area which requires continuous 24/7 Wi-Fi device monitoring and analysis, even if those devices are not connected the local area network. The Wi-Fi Inspector analysis module can be connected to the existing local area network by assigning it an available IP address. The operator can control the Wi-Fi Inspector analysis module from any TCP/IP connected remote location.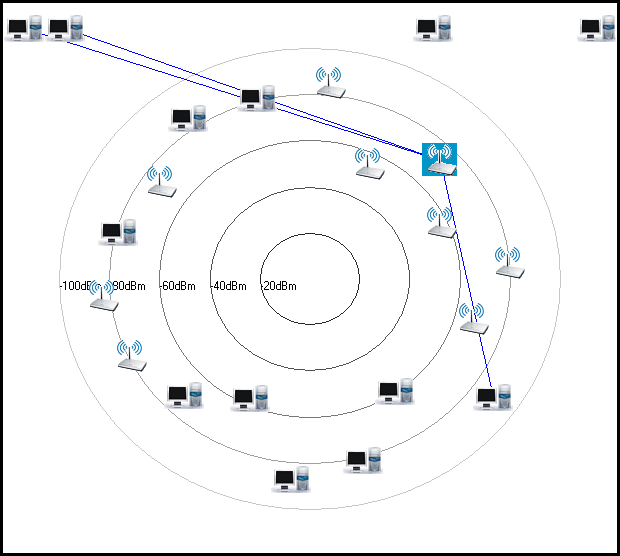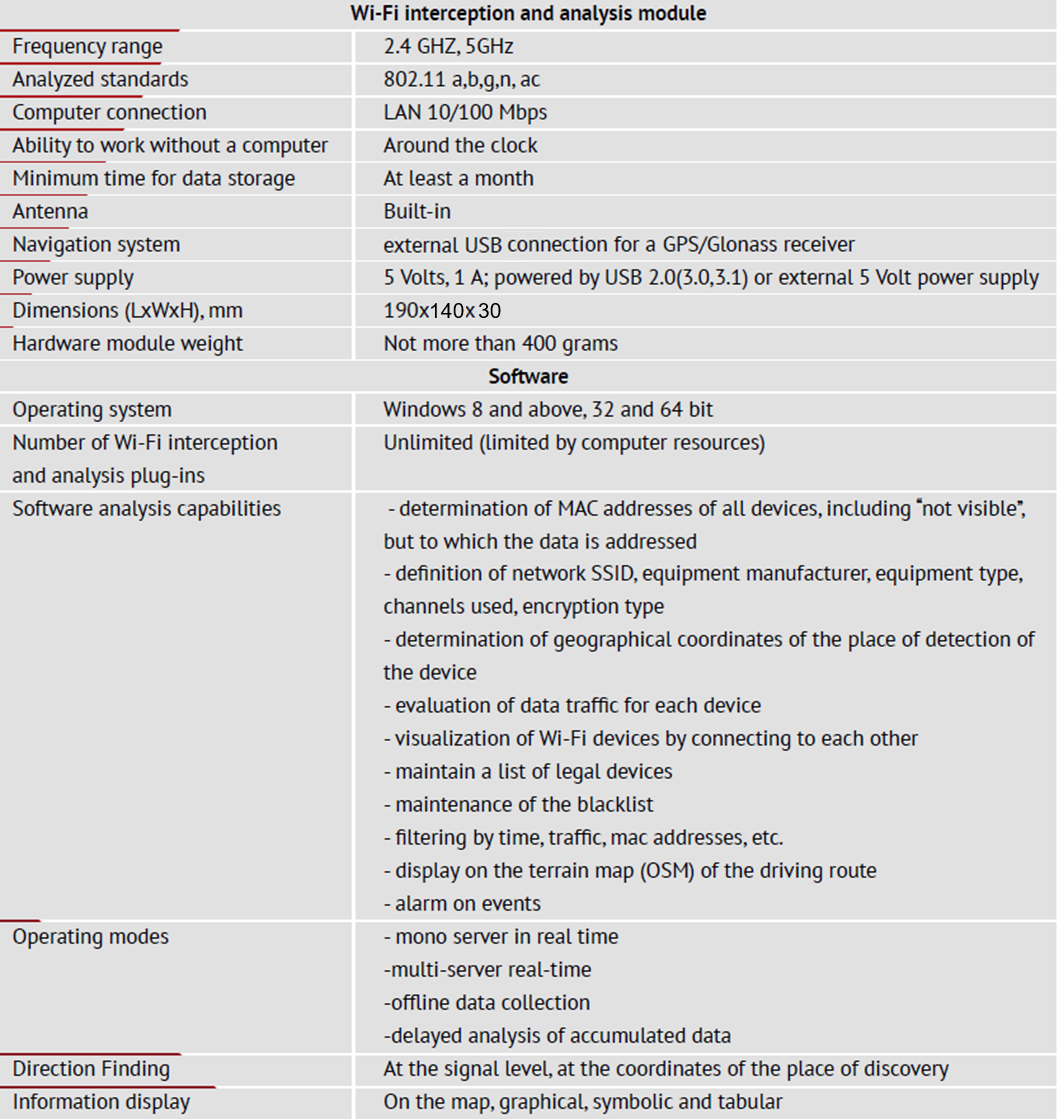 Wi-Fi Receiver Module – GPS Ready (Multiple modules if ordered)
RadioInspector Wi-Fi Software
Ethernet Cable
USB Power Cable
Optional External GPS receiver module
Professional Custom Nanuk Hard Shell Case with NK-7 Impact Resistant Resin.                        (Military approved IPX7 Waterproof, IP6X Dustproof, ASTM D-4169 DC-18 Drop/Rainfall/Vibration, ATA 300 Impact, MIL-STD-810F Immersion). *Case can hold two Wi-Fi receiver modules.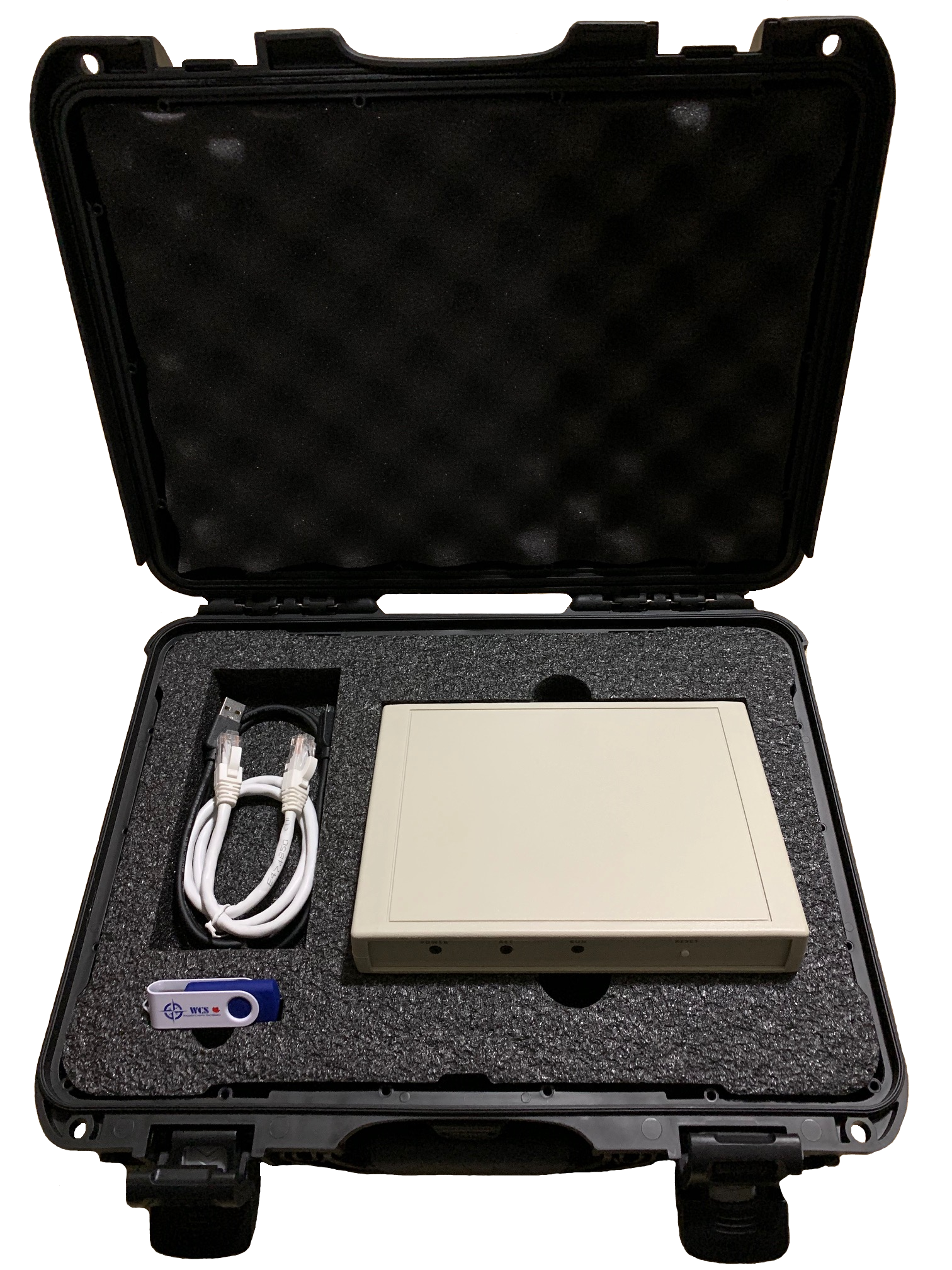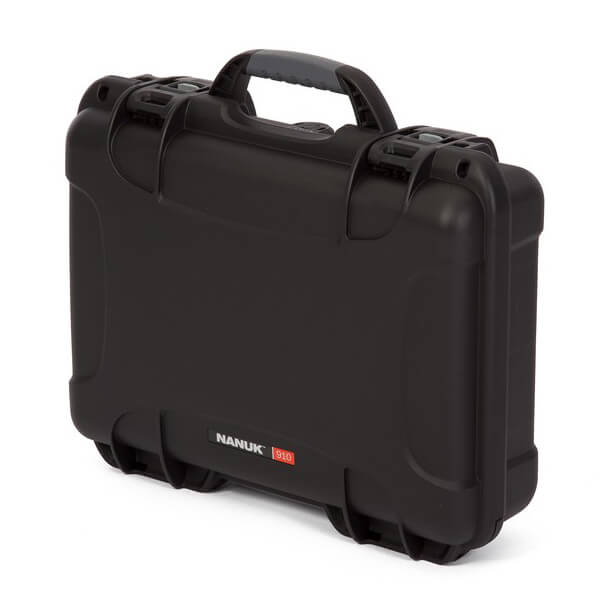 * The Wi-Fi Inspector Geo System is available through Waypoint Counter Surveillance Inc. and approved distribution associates.
* Receiver modules are manufactured in Canada.
Pricing
*Contact us for pricing information
*1 year manufacturer warranty.