RadioInspector has increased its data recording, storage and analysis capability. For each signal that exceeds and operator determined threshold, including the unique Dynamic Threshold, operators can now select the number of spectrum scans both prior to and after each signal detection event with a predetermined bandwidth, for recording and storage in separate files.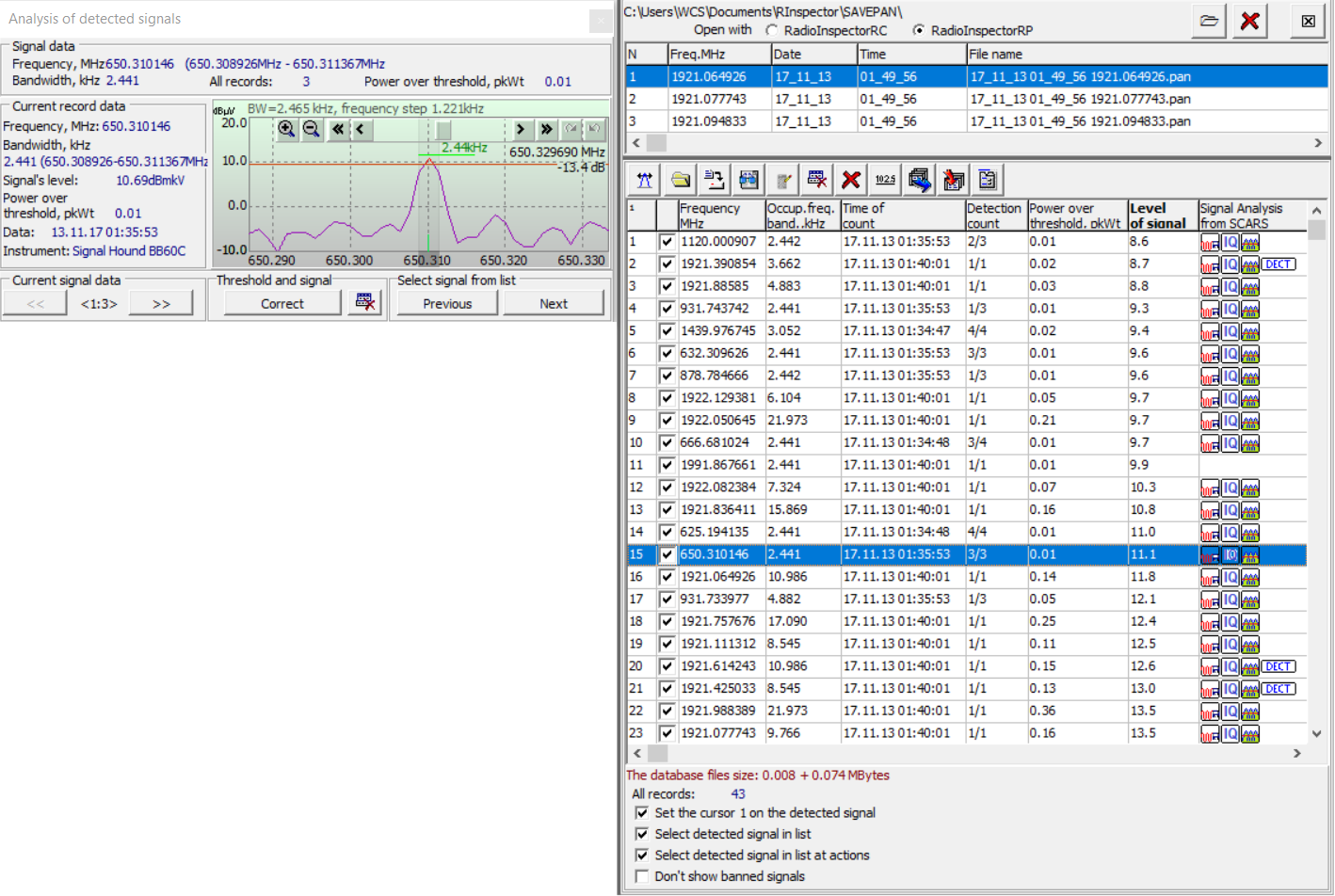 Each signal breaking a predetermined threshold is added to the list of detected signals with spectrum graph for review and operators can select an automatic audio recording, signal classification, and recognition testing and recently announced separate IQ data recording. Now, data for each individual signal detection, including operator selected pre and post-event data, is saved as a separate scan file and can be analyzed with the same tools as full recorded spectrum sweeps with the RadioInspector RP post-processing program. This includes file playback at user-selected speeds (forward or reverse) with 2D and 3D waterfall spectrograms.
Each sweep measurement within the recorded signal file is displayed with the date/time, maximum DB level and (if a GPS receiver was used during data collection) the longitude, latitude, altitude, speed (if mobile) and antenna compass information. The signal time-level trace can be displayed and played back, and full parameter measurements can be performed on current, maximum or average values including field strength, occupied frequency bandwidth and frequency of employment. Harmonic and interpolation analysis can also be performed to identify sources of interference.
Once a signal file has been recorded it can be displayed. When selecting the file, operators can choose to center the signal frequency with selected bandwidth in a new window for monitoring and further data collection, or immediately open the file with RadioInspector RP to begin post-analysis. As with full-spectrum sweeps, post-analysis measurement results for each detected signal file can be saved into RadioInspector's database and any portion of the file can be isolated and re-saved as a new file.
This new ability to save and store separate individual detected signal files with pre-detection and post-detection data provides even greater, advanced capability for all spectrum analysis applications.
* RadioInspector provides advanced, comprehensive industry-leading radio frequency spectrum analysis, data recording, storage, post-processing and data management capability for Technical Surveillance Countermeasures (TSCM), SIGINT, local and remote spectrum monitoring, surveillance, telecommunications, and spectrum management applications. RadioInspector delivers powerful cost-effective solutions while offering high performance, stability, and efficiency, customized to specific individual requirements with sophisticated capabilities and functionality not available with other applications. RadioInspector supports the largest and continually expanding list of more than 150 receivers, spectrum analyzers and SDR instruments from leading professional manufacturers worldwide, providing customers with the greatest deployment flexibility and the widest variety of advanced solutions for both current and future requirements.