RadioInspector includes a separate CSV file converter program for the conversion of frequency tables from CSV text files into RadioInspector Standard Authorized Frequency Database files.
This converter allows operators to utilize CSV frequency tables from anywhere in the world to create an unlimited number of Standard Authorized Frequency Lists for use during scanning, data collection and local or remote monitoring applications. The converter includes transmit frequency, receive frequency, occupied bandwidth, modulation, type of radiation, radio service, location of transmitter, owner, call sign and custom operator comment fields.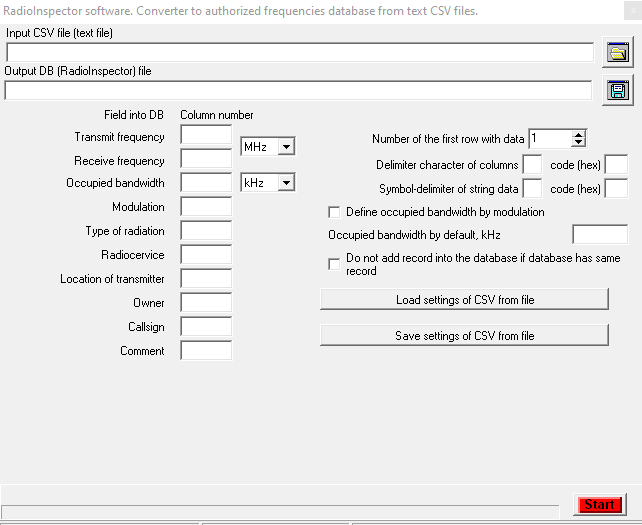 While the CSV file format is used around the world, it is not standardized. The method of separating fields with a comma is well known, however complications occur when the field data contains commas or embedded line breaks. The RadioInspector CSV conversion program was designed to work with this type of data. RadioInspector's CSV converter also includes options to select values for the delimiter character, string data delimiter symbol and hexadecimal codes.
RadioInspector authorized frequency list files can be edited at anytime, adding or deleting frequencies to each list during data collection, customizing each file to a specific location with focused, unique operator information. Such customization allows for greater accuracy and RF spectrum environmental awareness, while helping mitigate the dangers of assuming signal identification based on generalized or static information, by allowing real time recorded and analyzed operator input by specific location. Files can also be saved, exported and uploaded for use with use with other RadioInspector Standard Authorized Database systems world-wide using any receiver, spectrum analyzer or SDR instrument from the extensive list of integrated hardware.
Operators are provided with the flexibility to utilize the CSV file converter in combination with RadioInspector's ability to directly save signal list files in CSV or TXT formats manually, or automatically at specific operator programmed intervals for export, review and additional analysis.
*The CSV File Converter program is designed for use with the Standard Authorized Frequencies Database only.